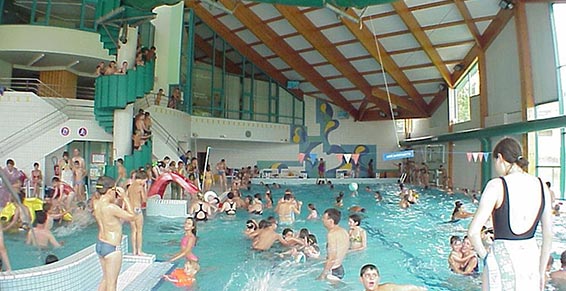 VUE GENERAL

vue ATLANTIE

TOBBOGAN 70m
Presentation
Un lieu unique en Lozère à proximité de l'A75 (sortie 33 ou 34) où détente, plaisirs, loisirs et sports aquatiques se conjuguent au quotidien.
Ouvert toute l'année; Bassin Sportif, 4 Toboggans, Île aux enfants, Aqua-bike gratuit, Ligne de nage sportive, Espace détente, Bassin contact ...
Un lieu où toute la famille trouve sa place avec une palette d'activités où chacun compose ses plaisirs. Un restaurant pizzéria se trouve dans l'établissement pour répondre à vos attentes.
Shorts et caleçons sont interdits.
---
Services and equipment
Furniture
Capacity
Group - persons max. : 250
: oui
Group - people min. : 10
Category
Natural Region
Others
Complementary access :
Animals accepted : non
Additional welcome : Fermeture pour nettoyage : 2ème quinzaine de juin, 1ère semaine de septembre et 3ème semaine de décembre
---
Labels and classification
Tourisme & Handicap
Handicap auditif
Handicap mental
Handicap visuel
---
Pricing
Enfant : 3,50 € enfant de St Chély
Enfant : 4,00 € enfant hors St Chély
Adulte : 4,50 € adulte de St Chély
Adulte : 5,00 € adulte hors St Chély
Means of payment
Credit Card
Cash
Mastercard
---
Opening periods
From 11 September to 17 December 2023 — See schedules

Lundi De 11:00 à 19:00

Mardi De 11:00 à 20:00

Mercredi De 11:00 à 19:00

Jeudi De 11:00 à 19:00

Vendredi De 11:00 à 19:00

Samedi De 14:00 à 19:00

Dimanche De 11:00 à 13:00

Petites vacances scolaires
Services
Language of the visit Français,Anglais
Free group visits Yes, Sur demande
Free group visits Yes, Sur demande
Further information Possibilité de visiter les installation sur rendez vous
---
The little extra
Bon plan
des abonnements de 12 et 24 entrées existent à petits prix !
Le saviez-vous ?
L'espace spa propose sauna et jaccuzzi avec une eau à 32°
Les plus
Le restaurant Atlantie pizzeria / grill, situé dans l'établissement, est idéal pour un repas en famille !
Locate the establishment
Reviews