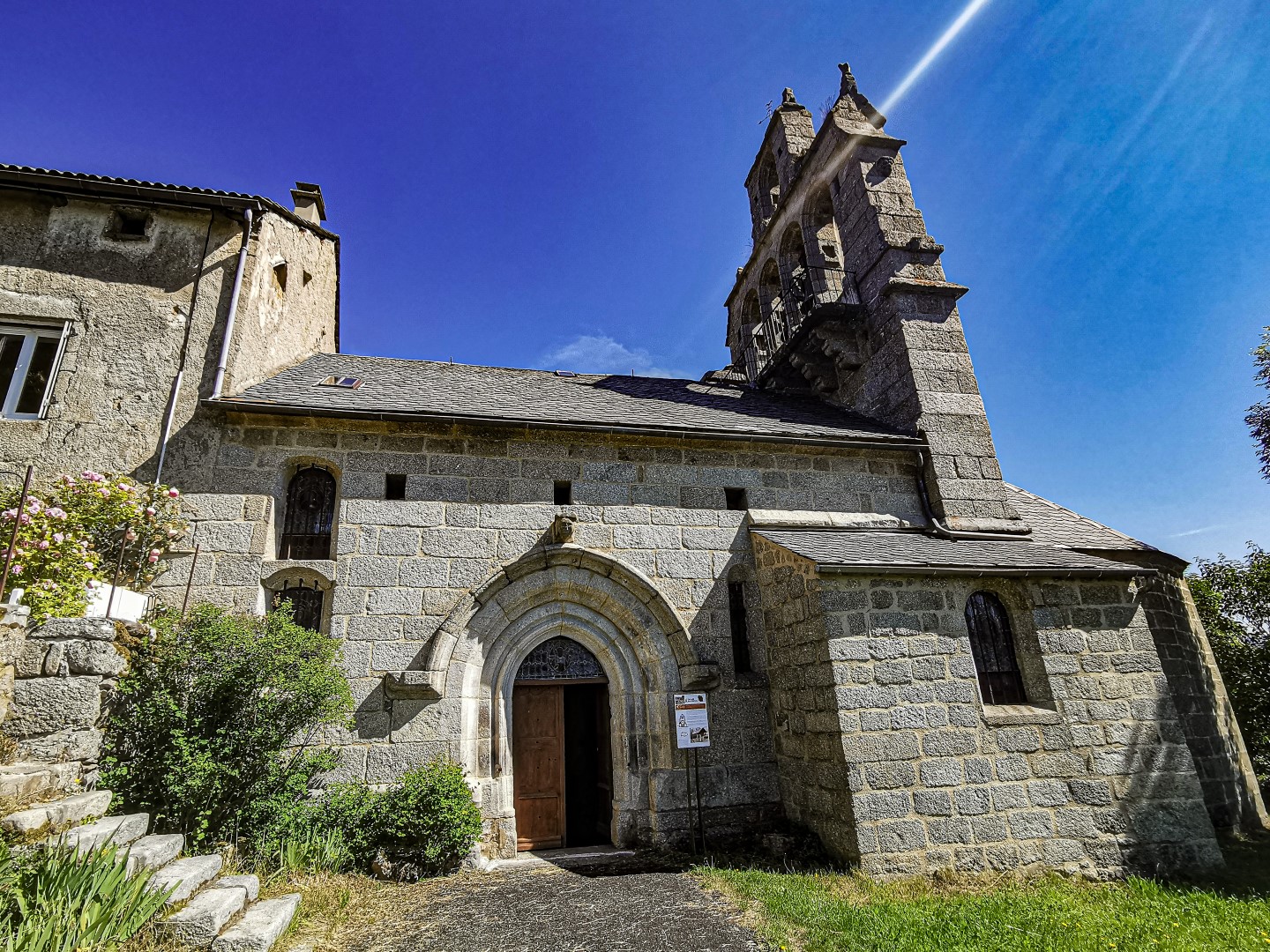 © Laura St Léger - Conseil départemental Lozère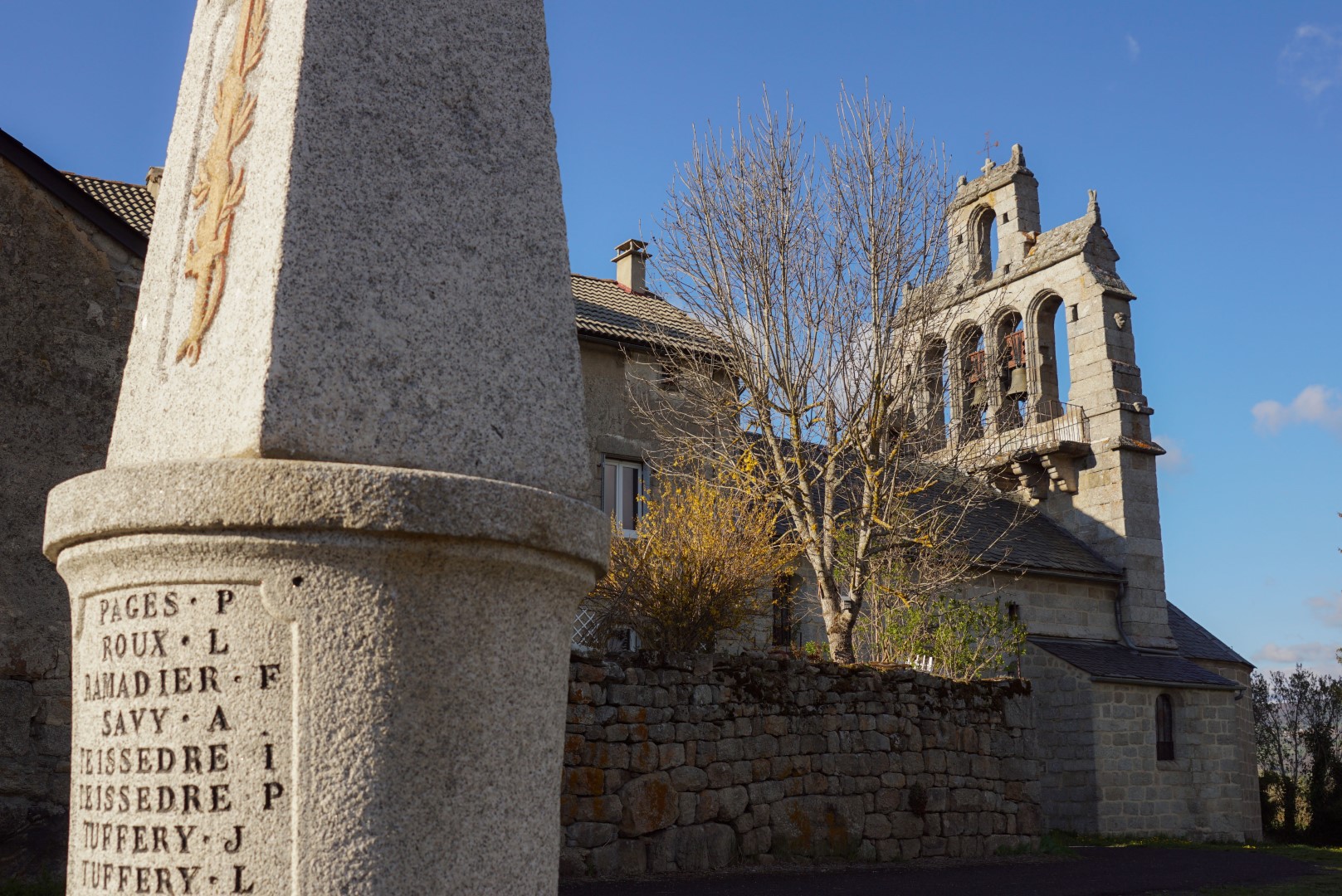 © Jean-Sébastien Caron - OT Margeride en Gévaudan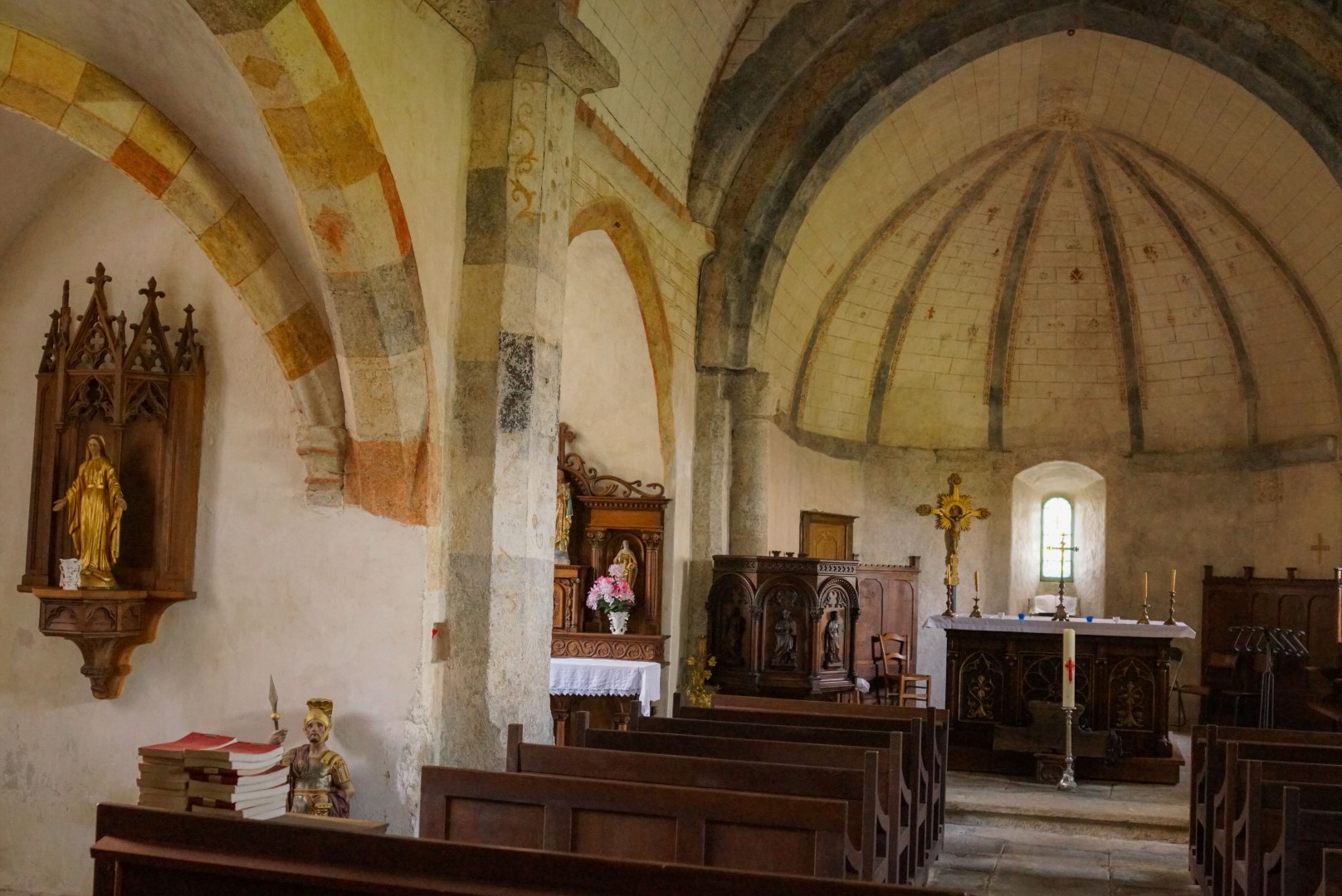 © Jean-Sébastien Caron - OT Margeride en Gévaudan
Presentation
Elle présente l'exemple le plus évolué en Gévaudan de décors géométriques de la première moitié du XVIe siècle. Au XVIIIe siècle, l'activité de la peinture murale est fort intense et reprend toujours les mêmes thèmes : la colombe du Saint-Esprit, les vases sacrés, des fleurs et guirlandes de fruits.
L'église paroissiale Saint-Julien était le siège d'un ancien prieuré-cure dépendant du chapitre de Marvejols. Elle comporte des parties plus anciennes qui remontent peut-être au XIIIe s., mais l'ensemble doit appartenir aux XVe et XVIe s.
Il s'agit d'une construction de petite dimension mais dont l'appareil de granit est très soigné. À l'extérieur, un portail à voussures gothiques ouvre au sud sur la seconde travée de la nef. Il est surmonté d'une archivolte ornée de trois figures sculptées. Un élégant clocher-peigne s'élève au-dessus de l'arc triomphal. Percé de quatre arcades en plein cintre, surmonté d'une baie clocheton, orné sur le côté sud de larmiers et de deux figures sculptées.
---
Services and equipment
Services
Additional welcome : L'église est ouverte au public toute l'année, son accès est gratuit, en visite libre.
Animals accepted : non
Family
Type
Natural Region
Others
Complementary access : L'église est situé aux pieds du village de Blavignac,
Building category : Gothique
---
Labels and classification
Classé aux monuments historiques
---
Pricing
Adulte : 0,00 €
Enfant : 0,00 €
---
Opening periods
From 14 December 2022 to 31 December 2023
Services
Free individual visits Yes, Permanente (00:30)
Free group visits Yes, Permanente
---
The little extra
L'info insolite
une particularité dans la nef : la mort présente, au-dessus de la porte, représentée par une tête de mort accompagnée de flammèches noires représentant les âmes du purgatoire. Ce sont les restes d'une litre funéraire peinte sur le décor principal, pour marquer le décès d'un personnage important.
Locate the establishment
Reviews