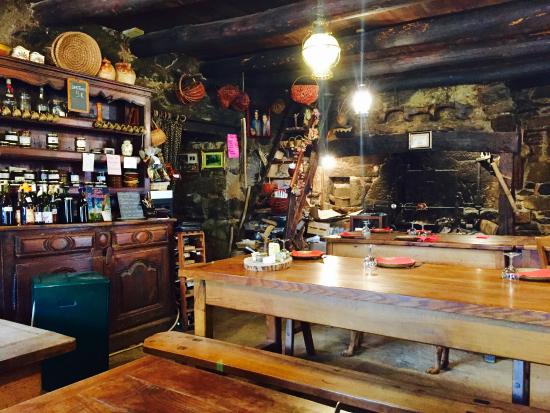 Presentation
Ouverte en 1977, l'auberge de la famille Valaix vous accueille, pour manger et/ou dormir, dans un lieu authentique et dépaysant où règne convivialité et simplicité. La petite salle de restaurant est située dans un ancien relais à diligence de 1742. Un feu de cheminée réchauffe la salle. Nous y faisons cuire régulièrement des viandes grillées à la broche ou la potée auvergnate dans un vieux chaudron en fonte. A l'extérieur, notre cochon Charlotte, nos ânes et notre chien Rio vous accueilleront.
Vous l'aurez compris, ici, vous pouvez vous essayer à la gastronomie locale. Nous perpétuons l'héritage culinaire issu d'une longue tradition.
Aussi, nous cultivons nos légumes et nos fruits. Nous cueillons ce que la nature avoisinante nous offre (champignons, fleurs, baies, fruits sauvages, etc.). De plus, les viandes sont issues de notre élevage ou de producteurs locaux. Et, nous faisons nous-même nos charcuteries dont nous sommes très fiers. Tous nos plats sont préparés par nos soins.
---
Services and equipment
Services
Capacity
Category
Type
Natural Region
---
Pricing
Menu : from 18,00 € to 26,00 €
Formule du jour : from 13,00 € to 16,00 € plat du jour
Means of payment
Credit Card
Postal checks
Holiday vouchers
Cash
---
Opening periods
From 31 March to 19 November 2023 — en juillet et aout fermé seulement le .
Locate the establishment
Reviews